Welcome to Hotel de Verbier, a Gem in the Swiss Alps Infused With Style
Located in the heart of the Swiss Alps, the small village of Verbier has been on the radars of travellers and skiers for decades. True alpine insiders consider it as one of the premium ski destinations in the world. As the snow melts, the white blanket is lifted to expose lush green meadows and a natural summer playground reveals perfect for hikers. Whether you are a winter or a summer-sports enthusiast, or prefer to view the slopes and trails from a comfort of a cozy cocktail bar, Verbier has it all. And situated right at the heart of the village is Hotel de Verbier. A luxurious four-star property perfectly combining the genuine mountain hospitality, artisan Scandinavian design and traditional Alpine savoir-faire. Hotel de Verbier is an invitation to relaxation seeker and adventure lovers.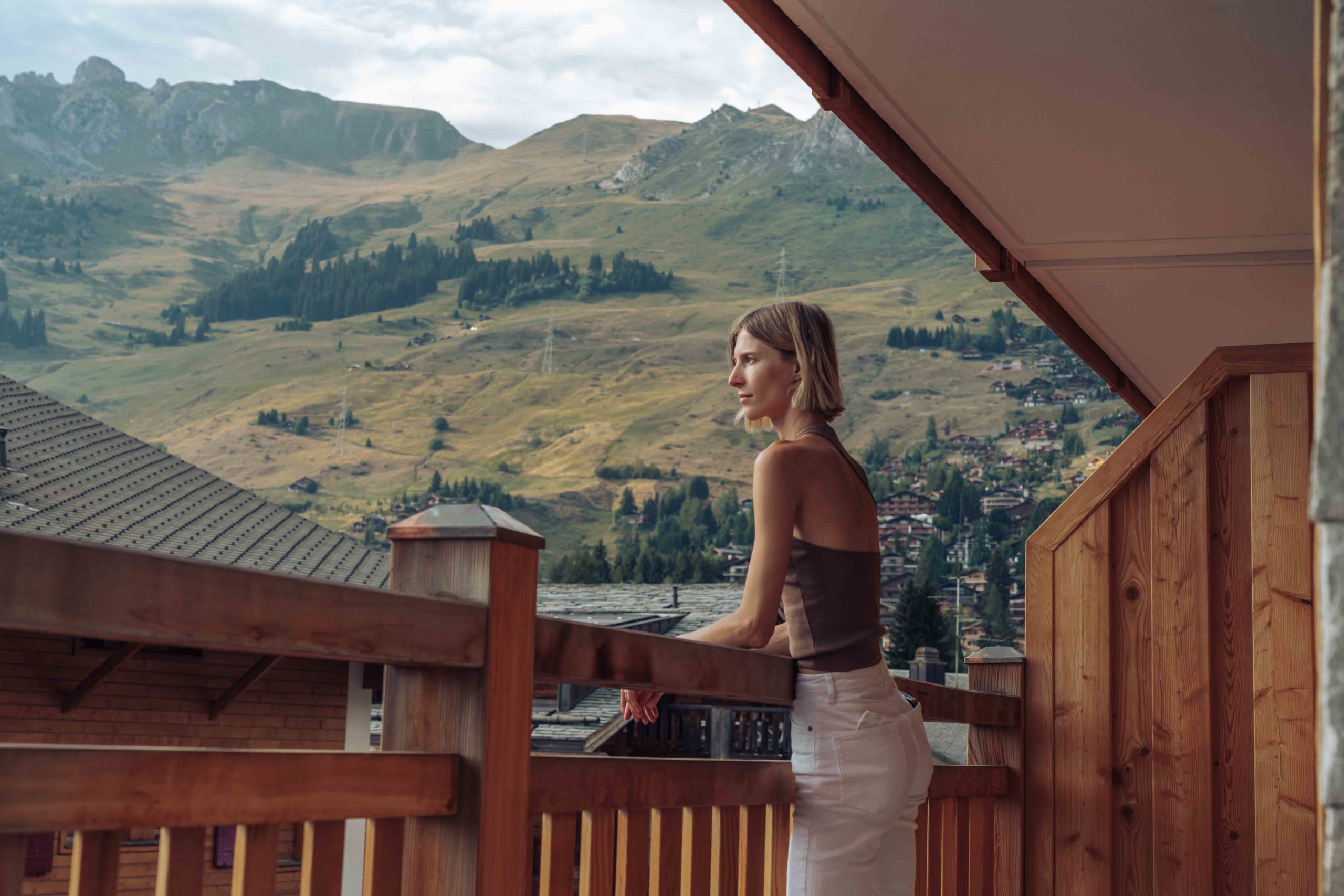 Hotel de Verbier
Whether as a modern base station for expeditions into the mountains or a relaxing escape from bustling cities… Every guest will find his home at Hotel de Verbier. In 2020, the property has undergone a full renovation under the careful eye of it's new owners- Ebbe and Eld. This Swedish couple has a long-held passion for Verbier and its beautiful surroundings. Together, they have created a timelessly modern design with warm colours, wooden surfaces, and natural materials. Only framed black & white pictures in the lobby will reveal that the hotel dates back to 1947 and was the very first hotel of the village (at that time Verbier had only 27 inhabitants!).
Fast forward to modern times, Hotel de Verbier is a place where all modern conveniences and irresistible blend of retro charm meet the contemporary design and Scandinavian eco-living. And all this is accompanied by the extraordinary views of the surrounding mountains.
The cosy lobby includes a fireplace and sofas with thick wool blankets hanging off comfortable armchairs. Flickering candles and great selection of books to browse invites you to relax after a long day in the mountains. Whether you fancy a game of backgammon or a nightcap, this is the perfect place to lounge.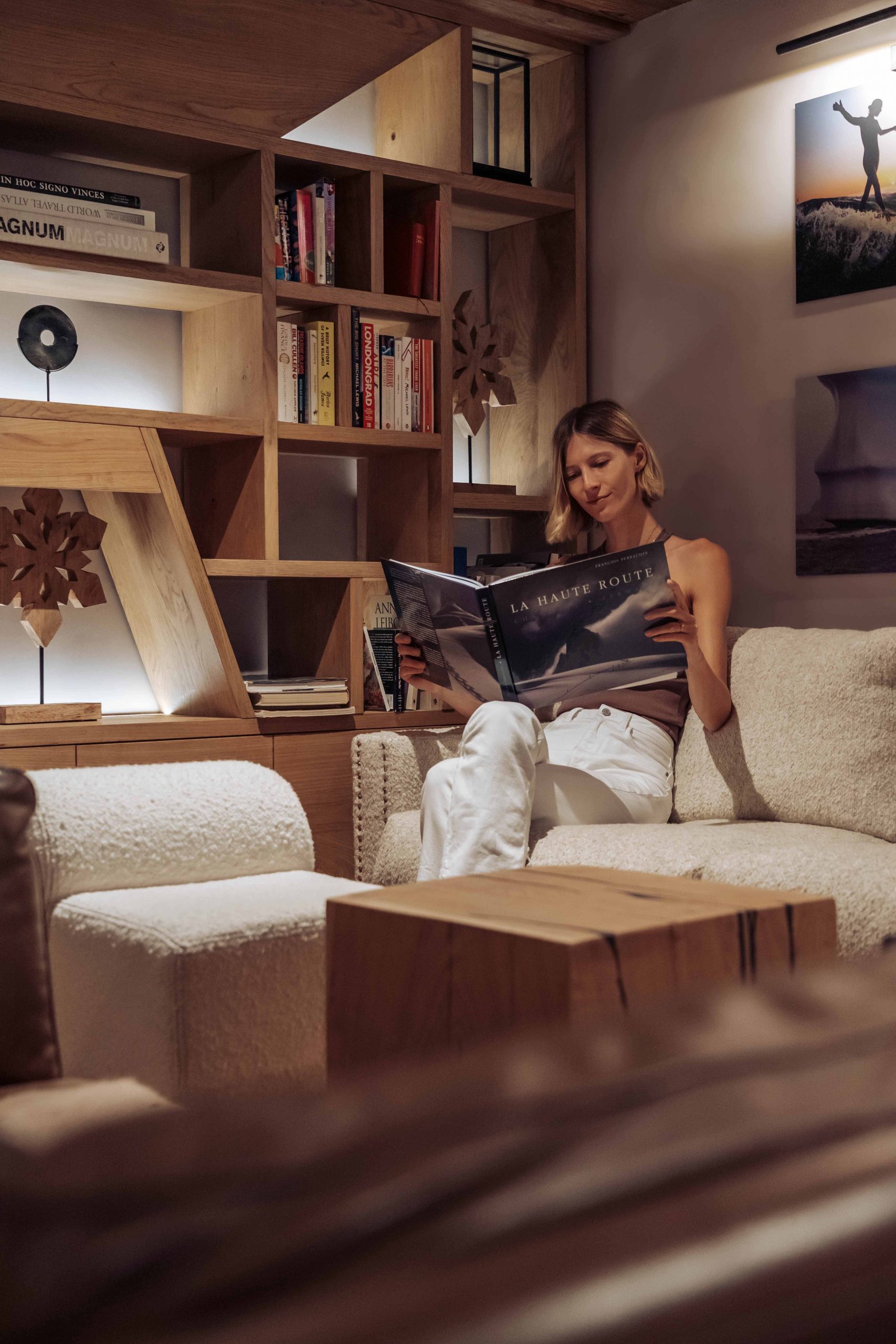 The Rooms
Make yourself at home in one of the 29 cosy double rooms. And as you make your way through the carpet covered hallways, don't forget to gaze at the beautiful collection of retro ski photos snapped in resort in the 1970s by the 'godfather of ski photography' Mark Shapiro.
An elegant, understated intimacy and cosiness unite all the rooms in this 3 story building. The attention to detail is visible at every glance. Starting from the furniture, like the fluffy arm chairs which modern connoisseur would die for, to the Egyptian cotton bed linen and bathrobes or the custom made pottery with the hotel's emblem.
Most rooms have balconies- with wooden lounge chairs and a coffee table, allowing the guests to admire the majestic landscape.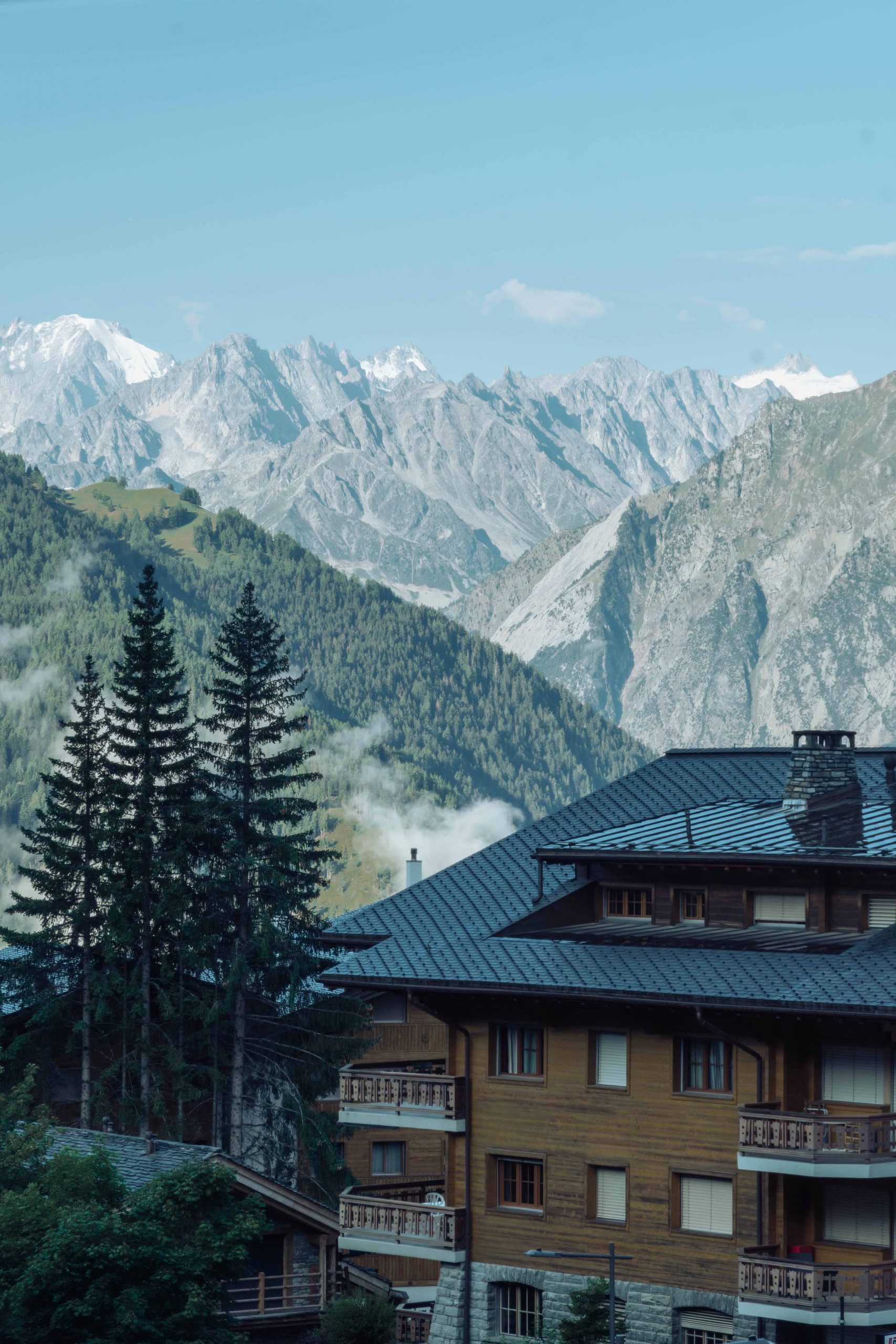 The Spa
If skiing or hiking isn't quite your style. Or if it is and you need a full reset after you come down from the heights, spend some time at Hotel de Verbier's spa. You can relax in a jacuzzi, hammam or sauna. Or simply enjoy your book and a cup of tea in the winter garden. If your muscles are too sore from all the outdoor exercising. Or you simply wish for some quality 'me time'- have a look at the spa menu. Choose a treatment that will best serve your current needs.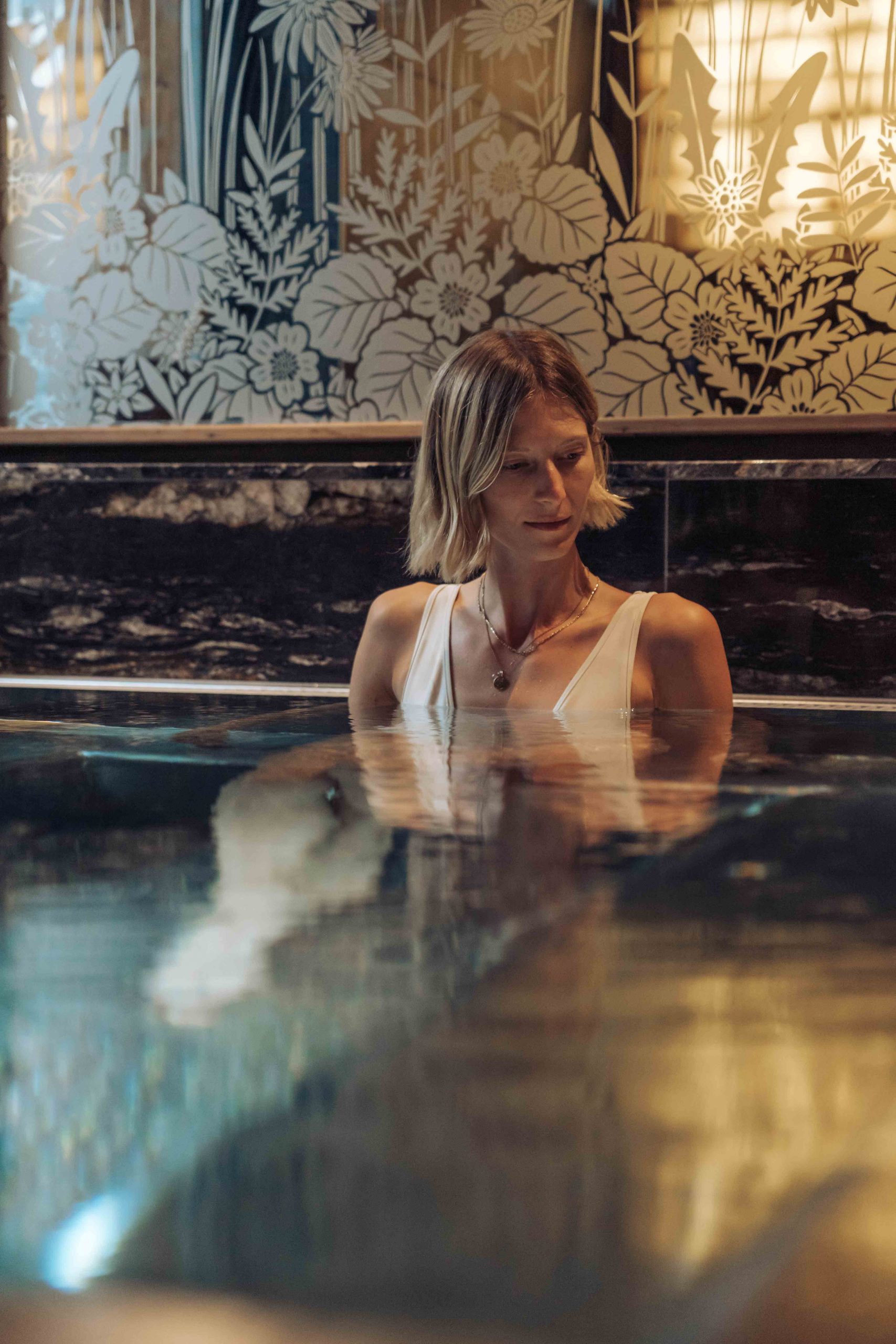 The Restaurant
La Nonna restaurant directly connected to Hotel de Verbier offers culinary local specialities and traditional Italian cooking.
In the morning, the extensive breakfast buffet will fuel you for the awaiting outdoor adventure. It has everything one could wish for. The selection of Swiss cheese and meats, fruits and musli, crusty bread and sweet pastries. There is also a choice of à-la-carte menu with different types of savoury and sweet dishes (like eggs Benedict or pancakes).
For lunch and dinner prepare yourself (and your taste buds) for a proper Italian dining experience. Whether you choose the truffle pasta or the 'milanese', you'll leave with a full belly and a smile on your face.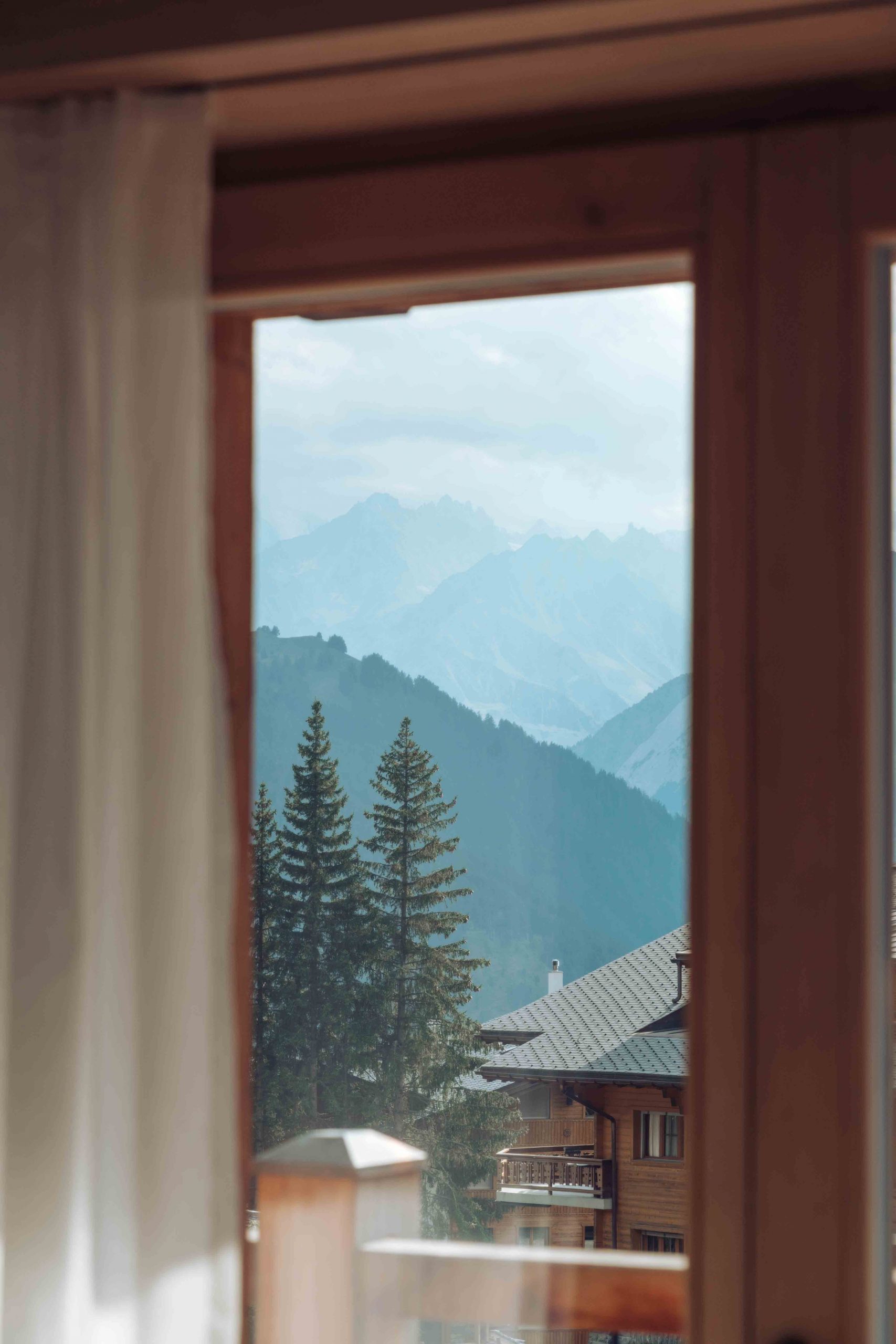 ↬ Read : Submerge into a Mystical Mountain World at Cervo Mountain Resort in Zermatt
Surroundings
Verbier is a year long wonderful destination. Known as one of the best ski resorts in the world with 410km of pistes and 89 lifts, and great off-piste skiing. It truly is second-to-none.
In the summertime, as the snow melts, the outdoor sport enthusiasts exchange their skis for mountain bikes. And snow boots for hiking boots. The 4 Vallées are equally impressive covered in green grass, as they are with the snow. The lifts will take you up to 3000m from where you can wander along nearly a thousand kilometres of signposted trails! And the best part is: all of this goodness is just a short cable car ride from Hotel de Verbier.